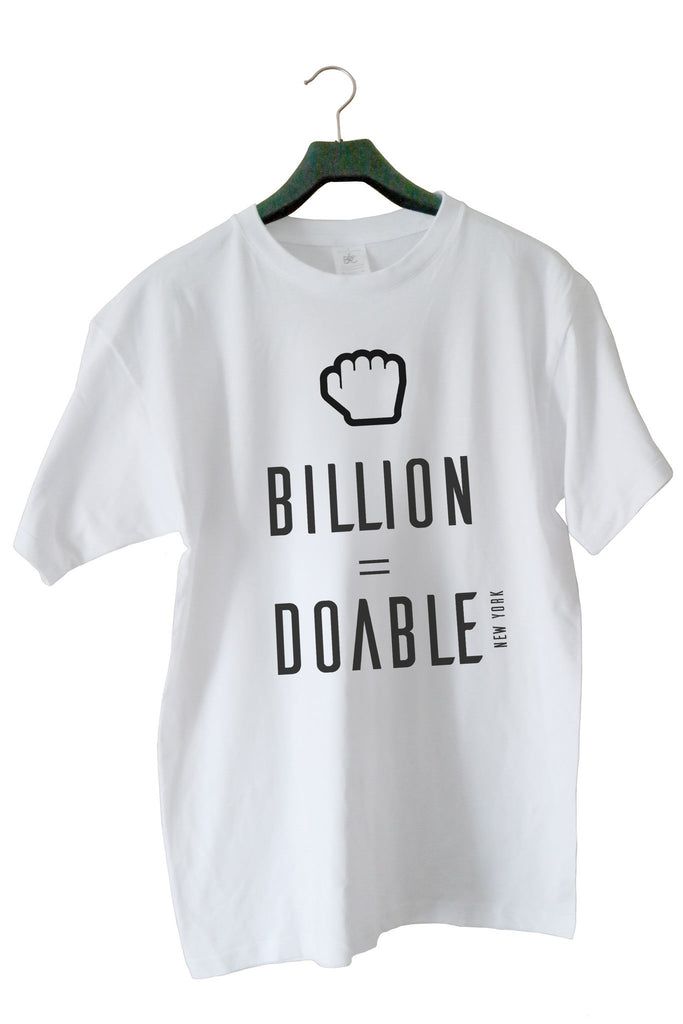 The story of Billion Is Doable (for Him)
Are you the kind of guy who does not settle for less? Do you aim for the stars? We mean, that do you actually believe you can do it? Are you tired of swinging for the fences and you want to swing for Mars? Do you want accomplish something only a few can? Yes, you do! Don't be shy! Don't settle for a million with 'M'. Start your own revolution and march for the billion with a 'B'. BILLION IS DOABLE when you believe that it is. No matter if you enter negotiations with an investor or a business partner make clear what you are after and what you believe to be realistic without even saying a word.

Our signature rounded corner fist design raises Fidel Castro or Super Mario style to the sky crushing the clouds as you fly up like an Iron-man with a cape. Billion is doable. You are worth it. Do not settle for less. IPO or nothing! Go for it! Come out of the closet and show the world what you really want!
ABOUT THE MATERIALS
Buying Billion Is Doable (for Him) tee you'll get one very hight quality t-shirt. it is made of 95% cotton and 5% elastin that makes it fit you much better than just a full cotton shirt. It is specially designed to women and thus you look much better in it than in unisex shirts. The print on the shirt is of the best quality possible - you can stretch, pull and wash the shirt ANY WAY you desire and with any teperature - the print lasts probably longer than the shirt itself. We make no compromises when it comes to the quality or materials or printing technology.
'Billion Is Doable (for Him)' belongs to the collection 'MONEYLINE'.
MONEYLINE is a collection that expresses entrepreneurial attitude towards life and business. It's created by and meant for independent, entrepreneurial, free, wild, brave and gritty women. It's one of our first two collections and it contains the most items and it become instantly very popular among the girls who were tired of being pushed down. In it's core MONEYLINE shirts say: I live my own life, make my own choices, I create my own rules and succeed in life because who I am not because what others do. As I take responsibility for my failures, I'm allowed to take the God damned responsibility for my success, too.