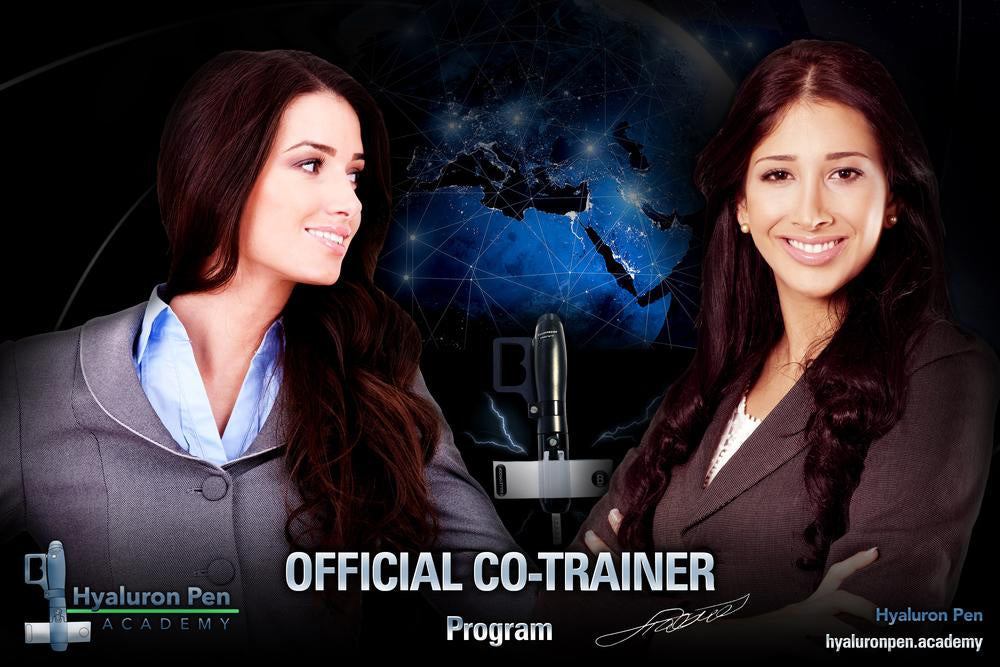 Co-trainer startup package - Syverialynn Saul
Cotrainer startup package contains 3 of the following: 
Hyaluron Pen - Everyoung Bulletproof 0.5 ml. A professional and reliable well tested device that just works. A cosmetic device, not a medical device.  / x 3 pcs
Filler capsules: 5 pieces. / x 3 pcs
Syringe for transferring Practicing filler. / x 3 pcs
Practicing filler (for model practicing) 10 x 0.5 ml. Disappears faster than normal HA filler. / x 3 pcs
Everyoung Hyaluron Pen towel. / x 3 pcs
Workbook (high-quality printout - 30 pages) + extra materials (hight quality). / x 3 pcs
-----
Access to online training for the student + certificate + support upon request.

By making this order the buyer/co-trainer confirms that he/she has read, understood and accepted ALL terms of service:
https://www.hyaluronpen.vip/terms
And https://hyaluronpen.me/pages/terms-of-service



Co-trainer and white label no warranty declaration

In case a student proceeds to become a co-trainer or an entity providing service under 'white label', he/she is considered a business entity and no customer protection laws apply. It is automatically considered a business to the business relationship and the co-trainer/white label owner herself/himself is responsible for providing business information to Merchant when it is asked by the Merchant. The merchant gives no warranty whatsoever to all digital and tangible solutions provided to the Co-trainer/white label owner. If a co-trainer/white label owner orders any sort of tangible items from the Merchant inside or outside the European Union, the Co-trainer/white label owner becomes the importer of the tangible products, fully responsible for all the additional expenses, taxation, registration, and all other additional costs. Also, the Co-Trainer/white label owner is fully responsible for the agreements made with possible students. The Merchant does not guarantee that the Co-Trainer is able to find students, nor takes the Merchant any sort of responsibility when it comes to students of the Co-trainer generating claims against the Co-trainer. The merchant does not recall any tangible solutions/products/supplies that have been sent to the Co-trainer/white label owner and such returns are not accepted by the Merchant. The co-trainer / White label owner is fully responsible for her/his own marketing materials, local device classification and registration, client relations, etc and can not refer to Hyaluron Pen Academy nor Everyoung brand with written permission from the Merchant.
Back