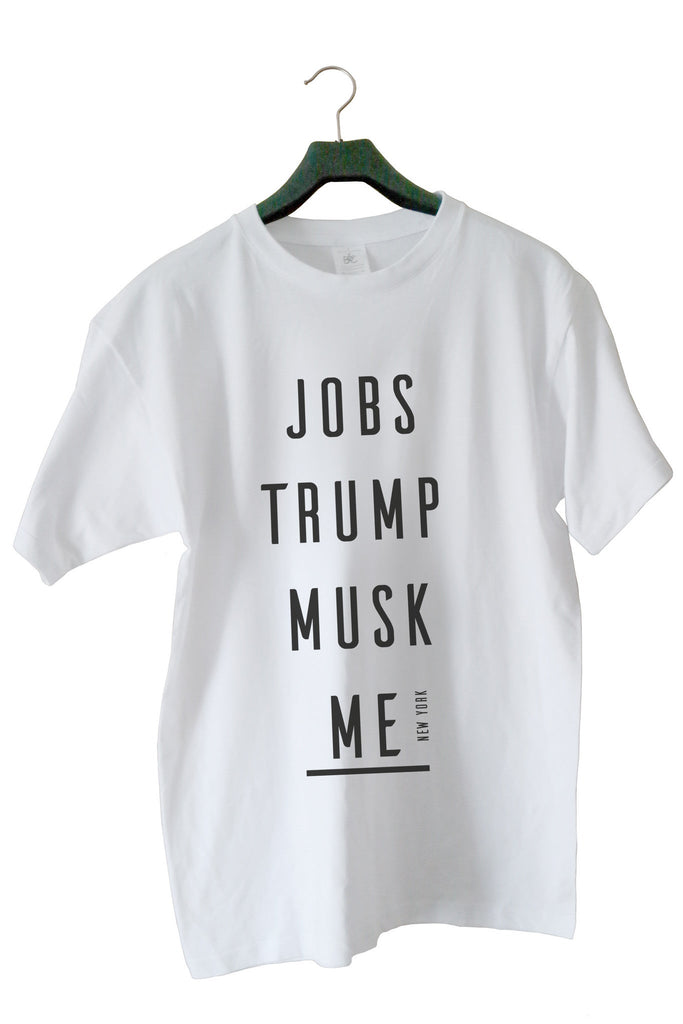 The story of Jobs Trump Musk Me (For Him)
An excellent sample of the attitude of our MODEST ME line. This shirt defines who you are. Inspired by the greatness of design, business and vision you are able to present yourself amongst the ones that deserve it. Yes, the words on this shirt refer to real people living and dead: Steve Jobs, Donald Trump and Elon Musk. All of them are worthy to stand next to you. And you are the one that will write you name into the books of history on the very same page as they have.

A shirt of a visionary leader, a magnificent source of creativity and change. A Legend. Just by owning it you feel different. And the effect it has on others when you wear it - just beautiful. Be prepared to be respected and don't ask for it - demand it on every level imaginable by showing who's approaches to putting tents in the universe you've learned from. Your corner is as strong as your attitude. Use it responsibly and with pride!
ABOUT THE MATERIALS
Buying Jobs Trump Musk Me (For Him) tee you'll get one very hight quality t-shirt. it is made of 95% cotton and 5% elastin that makes it fit you much better than just a full cotton shirt. It is specially designed to women and thus you look much better in it than in unisex shirts. The print on the shirt is of the best quality possible - you can stretch, pull and wash the shirt ANY WAY you desire and with any teperature - the print lasts probably longer than the shirt itself. We make no compromises when it comes to the quality or materials or printing technology.
'Jobs Trump Musk Me (For Him)' belongs to the collection 'MODEST ME'.
MODEST ME is a collection designed with the spirit of visionaries in mind and largely meant to show where you believe you belong to in this world. As we all know none of the great leaders (such as Elon Musk, Steve Jobs or Donald Trump) ever succeeded by being too modest. Thus (obviously) the name of the line is rather ironic because it actually represents the opposite true swagger to fake modesty. In it's very core the MODEST ME line says: I'm a visionary leader who has earned what I have. I'm standing taller than most but that's just a fact of life and far less important to me than others might think. Though better than the others, I'm not a poser, I'm here for a reason.