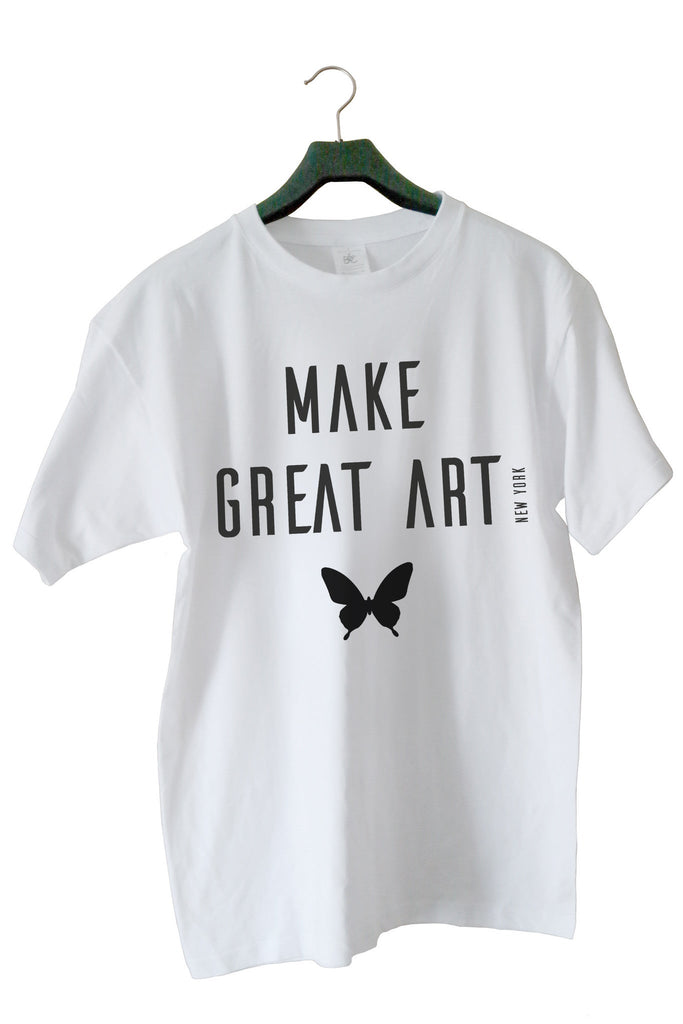 The story of Make Great Art (For Him)
A very popular tee from our ARTIST AT HEART line says it all in just three words: MAKE GREAT ART. As you might have guessed this tee is actually homage to a world-famous writer and artist Neil Gaiman - a great source of inspiration for us. In his commencement speech he coined the words: "Make Good Art", thus with outmost respect towards him we just had to kick it up a notch making good great. It is a shirt for a true artist, that identifies himself first and foremost with creating something new and original. It is a great reminder of what you have to be all about if you strive for success.

It has become one of our BEST SELLERS and there's a good reason for that. We found pleasantly that this tee has become popular amongst artists of all sorts of various fields. We are honoured to serve you with this shirt. Wear it with pride, creative attitude, appreciation towards all the artists in the world and MAKE GREAT ART!
ABOUT THE MATERIALS
Buying Make Great Art (For Him) tee you'll get one very hight quality t-shirt. it is made of 95% cotton and 5% elastin that makes it fit you much better than just a full cotton shirt. It is specially designed to women and thus you look much better in it than in unisex shirts. The print on the shirt is of the best quality possible - you can stretch, pull and wash the shirt ANY WAY you desire and with any teperature - the print lasts probably longer than the shirt itself. We make no compromises when it comes to the quality or materials or printing technology.
'Make Great Art (For Him)' belongs to the collection 'ARTIST AT HEART'.
ARTIST AT HEART is a collection that shows love towards what is truly important in life, thus expressing the softer side of the person wearing it. No matter how much money we make, how many followers we influence or what sort of position others consider us to have, it's all nothing compared to our inner passion - love for arts. Without loving what you do (not matter what sort of art you create) you will only be able to go half the way. It shows instantly if you are truly passionate about the arts you're in. This line is about creativity, arts, love for changing things one million times until they match the vision you had. It's about never giving up when the artist in you struggles to find it's audience and never letting the long-awaited success change your identity.