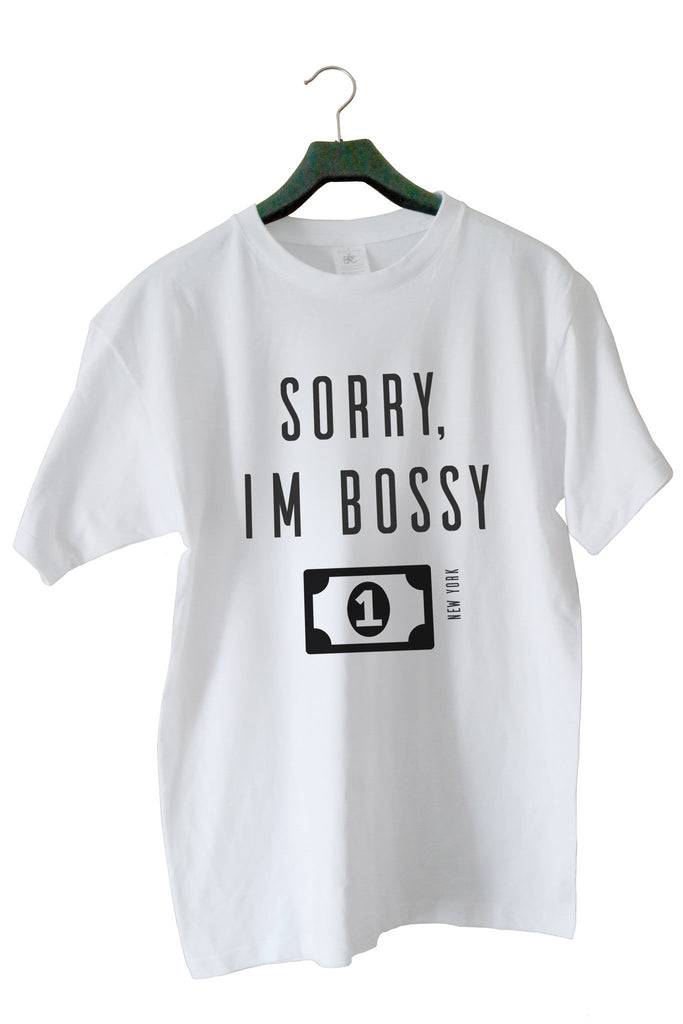 The story of Sorry I'm Bossy (For Him)
This shirt is for the boss or better yet for the guy with such attitude. A beautiful combination of a somewhat ironic statement "Sorry" and a specially designed sign of money is an excellent way to bring some humor and stamina to your working place. If you're in a position where you have at least one employee that reports to you, well then it's a no-brainer! Most probably there are days when you feel bossy and you should not be ashamed of that at all!

By the way we have found out that by wearing this shirt you can get away with a lot of behavior that would otherwise be considered annoyingly bossy. That shirt helps you to be bossy the right way! And another bonus-idea: if you need to raise the self-esteem of someone that is in command - give her that shit and a hefty Christmas-bonus is guaranteed! All bosses love to get this tee!
ABOUT THE MATERIALS
Buying Sorry I'm Bossy (For Him) tee you'll get one very hight quality t-shirt. it is made of 95% cotton and 5% elastin that makes it fit you much better than just a full cotton shirt. It is specially designed to women and thus you look much better in it than in unisex shirts. The print on the shirt is of the best quality possible - you can stretch, pull and wash the shirt ANY WAY you desire and with any teperature - the print lasts probably longer than the shirt itself. We make no compromises when it comes to the quality or materials or printing technology.
'Sorry I'm Bossy (For Him)' belongs to the collection 'BROW SWAG CLASSIC'.
BROW SWAG CLASSIC represents the classic brave attitude every girl should have. It's our core line that delivers the broadest range of messages that are universally effective in all the fields of action imaginable. The nucleus of BROW SWAG CLASSIC is being able to pick yourself up off the ground no matter what happens. By being a true believer in yourself even if no one else does, allows you to find some indescribable magic every day that helps you to revitalize your superpowers as an unbeatable girl. BROW SWAG CLASSIC sights confidence, power, bravery and endless swagger.